Jane's Biography
Who says one career, one passion, is all you get in life? Jane Rosenthal, having enjoyed a long and successful career as a radio journalist, poet and teacher, has now fulfilled her long-held dream of becoming a novelist. Though her characters and plots teased the edges of her imagination for years, she began seriously bringing their stories to life a decade ago, while living 3500 feet above California's Central Valley on a cattle and horse ranch.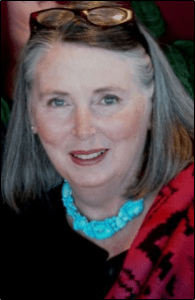 Recently, her adventurous spirit led her to move to an area of Santa Fe, New Mexico, known in the native Tewa language as 'where the heart water meets the canyon'. She loves spending time discovering the many cultural offerings in her new state, such as Ghost Ranch, the Taos Pueblo, the Santurio of Chimayo, the ancestral cliff dwellings. She also can be found relaxing in the hot spring of Ojo Caliente, because even tireless explorers need to rest sometimes.
Jane also enjoys strolling around the lovely Santa Fe Plaza, where one can view stunning works of Native American art and other wonders in the many old shops that surround the square. Come Friday night, you can find her taking the gallery walk up Canyon Road and marveling at the talented artists' exhibits. She and her husband of many years will often finish the night at El Farol, their favorite historic watering hole.
A lifelong American citizen, she's always felt the allure of culture and history that abounds in Old Mexico. Winter is her favorite season for exploring beautiful old pueblos mágicos like Oaxaca, San Cristobal, Patzcuaro and San Miguel de Allende, which hosts an annual literary festival that she faithfully attends. And no visit is complete without a stop in Mexico City, where she catches up with old friends and soaks up the rich culture and art scene. Her deep love and enchantment with this vibrant, colorful city, led her to set her first novel, Palace of the Blue Butterfly, there.
In between all of her inspirational adventures, you can find Jane in her office overlooking the gorgeous desert landscape, hard at work on her next novel.