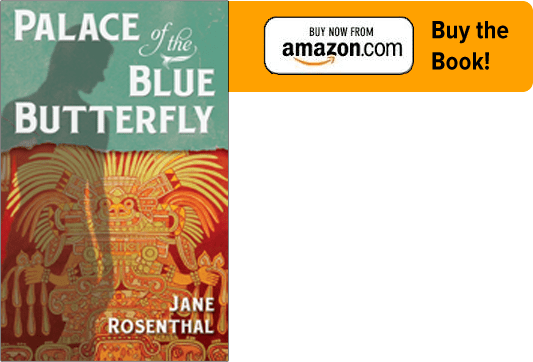 Mexico City is a vibrant, exciting and dangerous place, rife with drug cartel violence and political corruption. Yet, the city conceals another side just as treacherous, one that can be found in the elegant mansions, manicured compounds and seductive glamour of Mexico's very rich.
When Lili Golden's beautiful sister, owner of The Palace of the Blue Butterfly art gallery, disappears in Mexico's . . .
Loved Part I of the Mexico Trilogy?
Sign up for Jane's Blog to hear about
the release of the rest of the series!
Del Rio, California isn't Mexico, but it might as well be with its llanterias, its carnicerias, a place where all the local mini-marts sell bus tickets on the Flecha Amarillo line straight to Tijuana. Couldn't be a more perfect place for ambitious District Attorney, Callie McCall, to launch a political career, because — hola! — demographics. But, when a youngster is found murdered in one of her grandfather's citrus groves, prosecuting this career make or break case takes her on a journey down to the cartel controlled west coast of Mexico, up to the glamorous mansions on San Francisco's Russian Hill, and finally back to Del Rio where her family's secrets will be the greatest danger she faces.

Merida, Mexico — the White City — has always been famous for its stunning ruins and fabulous haciendas. Now, it's become the hot destination for beautiful, young snowbirds escaping the winter grey of Manhattan or Boston, London or Brussels. Nikki Carrows, a young, would-be playwright living on the cheap in a sweltering pension just off the Plaza Grande, can't believe her good fortune when she runs into her cousin and a group of his friends from Yale. They are spending the winter in the luxurious digs of a New York banker, a man anyone who hasn't been living under a rock for the past ten years has heard of. She takes them up on the offer of a free room in the mogul's opulent hacienda, and there, caught in the mesmerizing and decadent world of the globe-trotting rich, she is drawn into a life-altering affair.