Hey Folks,
Check out this great review my novel got on Amazon! Tell the world.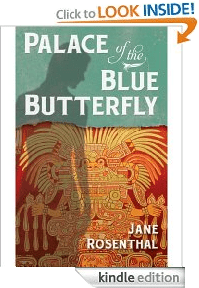 5.0 out of 5 stars
How to fall in love November 16, 2013
By CA reviews
Format:Kindle Edition|Amazon Verified Purchase
This novel offers two ways to become engrossed: either fall in love with Lili Golden's quest to repair her life by searching for her missing sister, or fall in love with the author's evocative phrases and descriptions of Mexico. Or fall in love with both.
Rosenthal's book is a real gem, presenting a culturally rich, almost mystical version of Mexico City. Yes, it is crowded and at times unsafe, but in Rosenthal's hands the city is one of intrigue and mystery, where no one tells their full story and politics and personal agendas shift in shadow. Not even ancient Mexican rituals like burning sage can keep all the duplicity at bay.
High school Spanish teacher Lili leaves her bland life in California behind when her volatile and unpredictable sister disappears. At first full of determination to get answers, Lili's energies are sapped by a parade of suspicious people and the need to generate an income. She slowly slides into her sister's house, clothes, job, and life. Lili is almost too resigned to the situation until she learns a secret that galvanizes her into action again.
Like Barbara Kingsolver's The Lacuna, the prose and intricacies of the Mexican setting keep you reading. The pace is languorous, leaving the reader plenty of time to savor both the story and the wonderful descriptions.